Steps Away from Entertainment: Toyota Arena
Residents of The Resort enjoy all kinds of community amenities that are perfectly designed for family members of all ages. In addition to the amazing offerings on property, the community is a short walk or drive from the Toyota Arena. Hosting a variety of seasonal events, professional sports teams, concerts and so much more, the Toyota Arena is an exciting entertainment hub – and you're a stone's throw away!
Sports fans rejoice! The Toyota Arena is home to professional teams for ice hockey, basketball and soccer – the Ontario Reign, the Agua Caliente Clippers and the Ontario Fury. Every new season brings exciting matchups with rivals and contenders throughout the year.
Live music experiences are unbeatably fun outings – whether you're with extended family, friends or even coworkers. The Toyota Arena hosts a number of concerts yearly, from contemporary Christian rock bands to the hottest rap artists of the moment. With a steady stream of performers, you're bound to find an artist you've been dying to see. Grab your childhood pals to watch your favorite "throwback" band for an evening of nostalgia!
Kids will be in awe of the venue's entertainment options specially tailored to them. Family-friendly shows like Disney on Ice are thrilling favorites for children across the country, and you can see these shows at Toyota Arena.
Living at The Resort means you're consistently connected to the most thrilling activities around. No matter your recreational style, there's always something to do! It's time to say "goodbye" to boredom permanently! Check out the other amazing locations in the area around The Resort.
Speaking of fun – take a virtual tour of Club on 6th to explore the on-site clubhouse for yourself! Stay up to date with all things happening at The Resort by following us on Facebook and Instagram.
Comfort & Convenience
When all you need is near-at-hand, the weight of "travel time" can be lifted off your shoulders. At The Resort, you're mere steps away from the best dining, entertainment and shopping options in the area—both on property and off!
Staying in is easy when you're living in The Resort community because home is where the fun is. Townhomes at Nova at The Resort offer room to stretch with open-concept living spaces and kitchens designed for entertaining. Gather your college friends around the kitchen island for apps and shared memories or call the kids downstairs for some after-school snacks with their classmates. Most plans have a sunny deck off the second story and each layout features a spacious great room for optimal relaxation.
Stroll around the community and experience world-class amenities just around the corner from your home. Pups are always welcome—and pampered—around The Resort: head over to one of the dog parks for play before taking a trip to the dog washing station for a much deserved bath for your furry friend.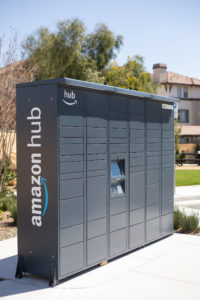 Special delivery! Nova at The Resort features an Amazon Locker for all your family's most precious packages—safely delivered to your locker and awaiting your retrieval. Trust this: you deserve that personalized mug set.
Business meetings and corporate events are simple to schedule and host at The Club on 6th. Send off a few emails from the Business Center before leading your team's presentation in one of the reservable meeting rooms or Conference Room. Need more space? The Club Room upstairs is perfect for larger gatherings. Learn more about rental spaces: (909) 476-0404. Take the full virtual tour of The Club on 6th clubhouse here.
If you're looking for off-campus fun, the Metrolink is less than a mile up the road. Take a quick trip around the Inland Empire or jet into Downtown L.A. for a day of shopping and site seeing. If you'd rather stay closer to home, retail and restaurants are close at hand. Ontario Mills mall, featuring establishments like UNIQLO, Nordstrom Rack and an AMC Theater, is a 20 minute walk—or four minute drive—from The Resort.
The best in Southern California living is right at your fingertips when you make The Resort your home. Nothing beats the convenience this community offers you and your family.
Stay up to date with all things happening at The Resort by following us on Facebook and Instagram.
A Season of Cheer
The holiday season has arrived, and there's no shortage of great events in and around Rancho Cucamonga to get into the spirit of the season. Check out our list of holiday-themed area happenings and events as we make our way through December.
Holiday Food Drive at RC Family Resource Center Until December 10 from 9:00am to 4:00pm
If you're looking to give back, this drive aims to provide 200+ baskets to families in need.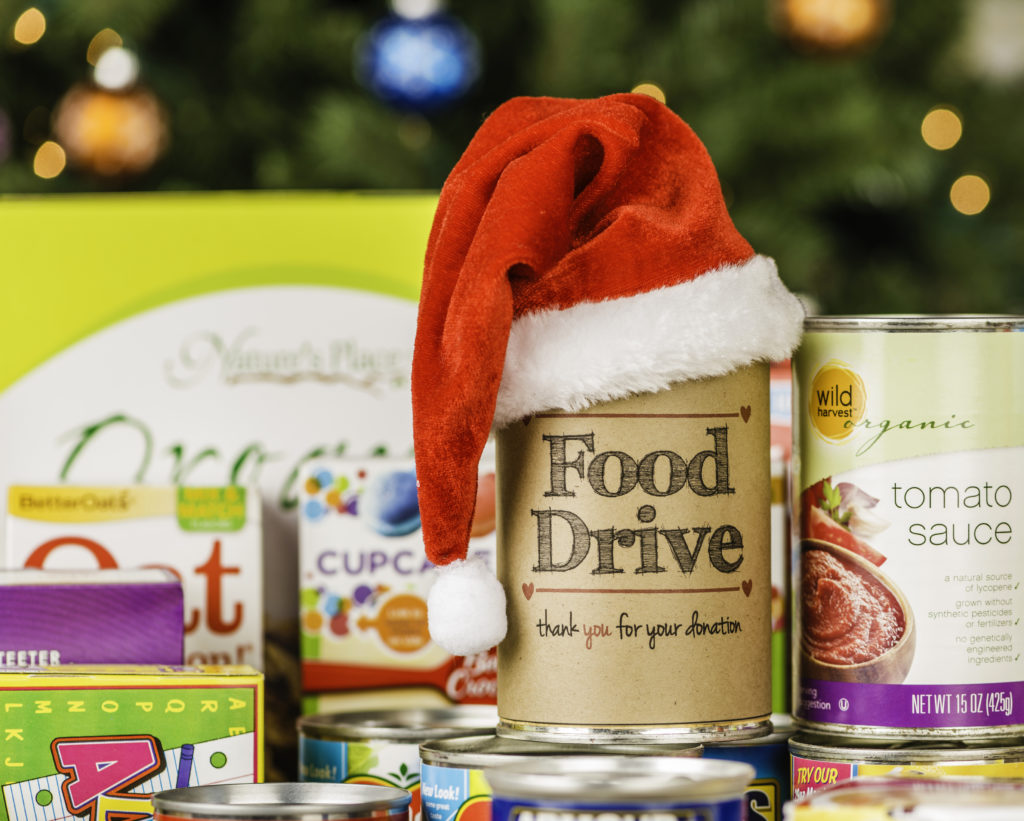 A Crescendo Christmas at University of La Verne December 11 & 12, 2:00pm or 6:00pm
A musical event for the season, this musical tribute is an ode to the joy of Christmas. Get your tickets now to hear the sounds of the season.
Sensory Friendly Event at Victoria Gardens December 12 from 9:30am to 10:30am 
This affair allows kids to celebrate the magic of Santa in a sensitive environment, and you can support Autism Speaks by purchasing any photo experience.
Christmas Magic Show at Magic Lamp Inn December 12 from 5:00pm to 7:30pm
Alakazam! Get a taste of the wonder of magic and mentalism at this show featuring the talents of world-class magicians. Snag your tickets before they disappear!
Santa Claus at Haven City Market December 15 from 2:30pm to 6:00pm
Get your holiday photo op with Santa and listen to some seasonal sounds at Haven City Market.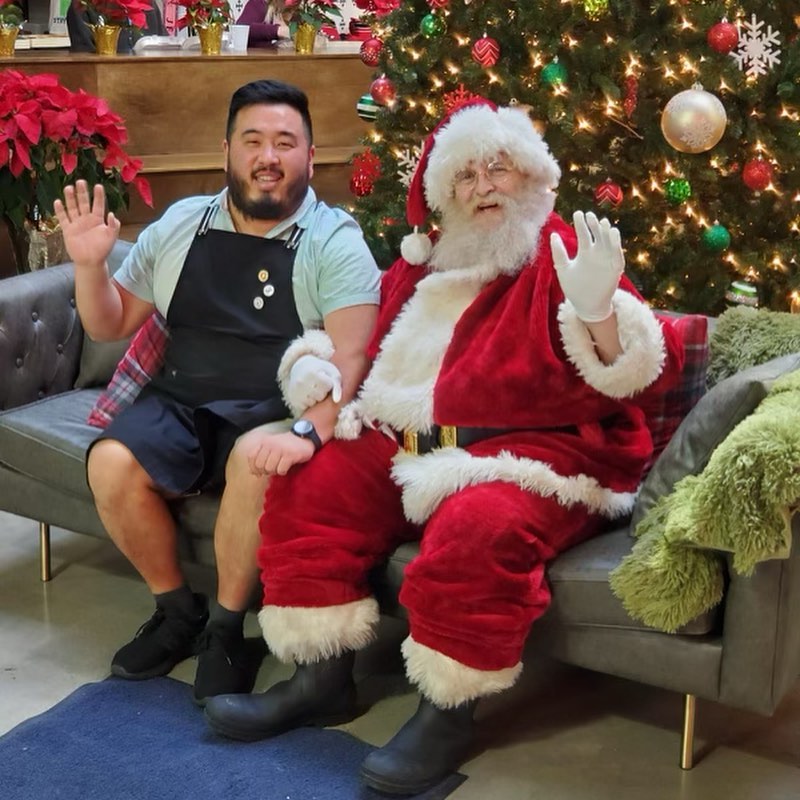 Photo: @HavenCityMarket
Ugly Sweater Party at Last Name Brewing in Upland December 18 at noon
It's time to showcase your most hideous sartorial item for a chance to be crowned the ugliest of the season. While you're there, enjoy holiday music, kids' activities, food and more!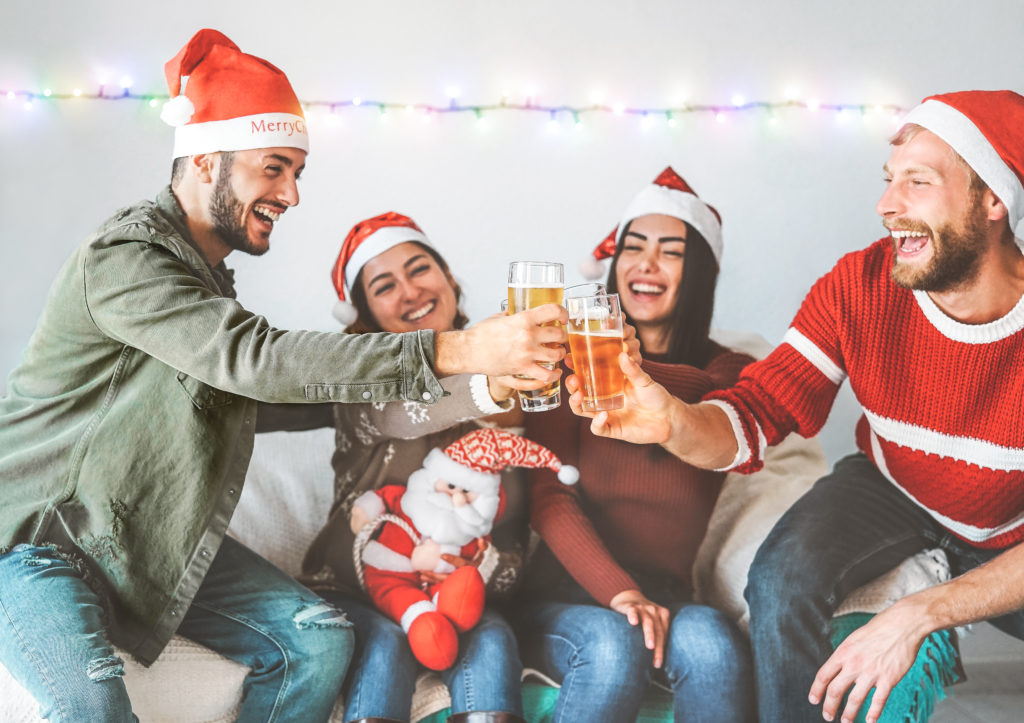 With so much to do, you're sure to find a new tradition at The Resort.
For more information on our new home neighborhoods, be sure to Like us on Facebook and follow us on Instagram to stay in the know.
Your Next Winter Adventure Awaits
At The Resort, you're surrounded by all that makes winter wonderful. Imagine yourself bundled up and surrounded by the beauty of sparkling snow, ice and frost. Go skiing or snowboarding during the day, then warm up to a crackling fire at night. With so many mountain resorts nearby to experience, you'll have plenty of opportunities to play.
First up, Mt. Baldy is nestled between the San Gabriel Mountains National Monument and the Cucamonga Wilderness area – with over 4,000 acres of snowy terrain that are perfect for people who love to ski and snowboard.
Mountain High in Wrightwood is another resort that's great for snow tubing, sledding and scenic sky chair rides. And Big Bear Mountain Resort is a winter wonderland with an international reputation. There are two mountains to choose from, with powdery trails for every skill level.
Snow Summit is also in Big Bear, and it features special weekly offers. With ongoing deals like half-price night skiing, take friends along for a cozy time to enjoy winter activities under the stars.
If sledding is more your style, Snow Valley famously boasts Southern California's only chairlift to a serviced sledding area. And at Mammoth Mountain, you can take a scenic gondola ride up the over 11,000-foot summit to enjoy sweeping views, then head on down for big fun on a guided snowmobile excursion.
The best part yet? When it's time to go home, you're only a short drive away.
If you're interested in all the perks of a destination living experience infused with modern vitality, check us out at The Resort, where new homes, amenities and paseos will keep you close to all the action. Take a virtual stroll through our new home neighborhoods and be sure to Like us on Facebook and follow us on Instagram to stay in the know.
Your Perfect Home Base
Living at The Resort means working from home is easy. Our neighborhoods are designed with an artful approach, which means each home is truly functional, brilliantly convenient and practically ideal—starting with a range of options for a truly enviable work-from-home setup.
Whether you take advantage of the optional flex room at Plan 2Z at Nova by The New Home Company or convert one of the three bedrooms at Plan 5 at Aspire by Van Daele Homes into a much-needed tranquil studio—a flexible working space is waiting for you.
The community is also full of conveniences for those who work remotely. With amenities like an on-site business center and conference room, you can enjoy a professional setting to meet or Zoom with clients while still having the best of home.
And when you're ready for a break in the day, get your relaxation in at the resort-style clubhouse, Club on 6th, with a dip in the pool. Or unwind with a walk along The Resort Parkway, taking in the unique street scene. Take a virtual 3D tour of this community center to find your own corner of productivity!
Ideas are best when inspired by the people, places and events that shape them—and The Resort brings it all to life.
Check out our new home neighborhoods and be sure to Like us on Facebook and follow us on Instagram to stay in the know.
Fit for Your Lifestyle
The Resort is where your life is centered, where you create unforgettable memories and live life the way you want to. As a resident, enjoy access to our first-rate amenities, like The Fitness Center at Club on 6th, built to help you become a better and healthier you.
Take a Virtual Tour of Club on 6th Here >
If you're ready to count your reps and your rests, come check out the state-of-the-art machines, treadmills and free weights that can get you to looking and feeling your best. The yoga studio is great for those looking to find their zen or residents simply taking a break from the workday. And the pool is perfect for a complete workout that maintains your cardiovascular health.
The Club on 6th Pool
Yoga Studio at Club on 6th
If you're interested in having all the amenities of a world-class destination right in your own backyard, check out our range of brand new homes with amenities and paseos that will keep you close to all the action. Take a virtual stroll through our neighborhoods and call (909) 270-4455 to schedule a tour of Club on 6th.
Sign up on our interest list to be among the first to receive news and updates about this Rancho Cucamonga community. And be sure to Like us on Facebook and follow us on Instagram to stay in the know with everything The Resort.
Made For Those Who Move
You know what they say: Everything's better when you live in the moment. Little things in life add up to create a sense of adventure, and at The Resort, you'll have access to planes, trains and freeways that take you anywhere you want to be.
With over 60 daily departures, head to Ontario International Airport and fly to your choice of 27 major cities via 12 commercial carriers. That means you can be in New York City, Honolulu or Mexico at the tap of an e-ticket, minutes from your front door.
Deciding to stay in SoCal? Enjoy a trip to LA with Foothill Transit, providing local, express and rail-feeder service to the vibrant symbol of downtown's renaissance, Union Station. Or take the OCTA to places like Long Beach and San Diego to enjoy cities forging a dynamic destination for the arts, entertainment and culture close to home. The same train also takes you to the Los Angeles County communities of Lakewood, La Mirada and Cerritos with express service to the San Bernardino County cities of Chino Hills and Chino so you can really go anywhere you want to go.
Staying in Rancho Cucamonga to enjoy the eclectic dining scene is also easy with Omnitrans operating local and express bus and rapid transit services for Rancho Cucamonga. And commuting to work the next morning has never been easier with Metrolink, the commuter rail system in Southern California with destinations in Los Angeles County, San Bernardino County and Riverside County.
When the weekend comes, pack your bags for a road trip with easy access to the I-10, I-15 and SR-210 freeways. Ride the I-10 to Arizona, take the I-15 to San Diego or hop on the SR-210 to Indio or Palm Springs.
And that's not all. Brightline West recently unveiled plans to build a 50-mile high-speed train to Vegas that will stop in Rancho Cucamonga, and it will reportedly travel at speeds of up to 200 mph, which means our residents will be able to get to Vegas within two hours or less.
With so many excellent options, life at The Resort is like traveling without ever leaving home.
Check us out at The Resort, where new homes, parks, amenities and paseos will keep you close to all the action. Take a virtual stroll through our new home neighborhoods and be sure to Like us on Facebook and follow us on Instagram to stay in the know.
Splash Into Our Amenities
The Resort isn't just a name; it's a lifestyle. People living here know they can expect resort amenities like no other place because we're all about creating experiences. The facilities are impressive, but it's the people who make the place so special. However, having all the comforts of life can't hurt either. And there's no better place to spoil yourself and the family than with the pool at The Resort.
The pool is the crown jewel of our community. Picture it: blue skies, brilliant sunshine, the greenery of the lawn. When you are poolside, it's not just about what you see—it's also about how you feel. There's something for everyone in this expansive pool area. Kids can play in the shallow end while adults lounge on the deck. And with lap lanes ready for swimmers, no one gets left out of the water.
The building's fenced-in pool area features comfortable deck chairs for relaxing, cabanas for shade or sports fans to camp out, and a BBQ area for socializing. Enjoy this picturesque place to hang out, relax and catch some rays on a sunny day, or doze off in a nearby hammock.
If you're interested in all the perks of a destination living experience infused with modern vitality, check us out at The Resort, where new homes, amenities and paseos will keep you close to all the action. Take a virtual stroll through our new home neighborhoods and be sure to Like us on Facebook and follow us on Instagram to stay in the know.
More Ways to Get Fit Near The Resort
There's a new amenity in town, and fitness enthusiasts are gearing up to get fit. As part of the City of Rancho Cucamonga's continued efforts to promote an active lifestyle and improve the quality of life for its residents, the City has unveiled an outdoor Fitness Court® sponsored by the National Fitness Campaign.
This new fitness hub, located near The Resort at Central Park along the Pacific Electric Trail offers seven high-quality calisthenics stations, each utilizing the user's own bodyweight. In only seven minutes, you can work seven foundational movements: core, squat, push, lunge, pull, agility and bend—or you can work at your own pace! Using the companion Fitness Court® app, available for iOS and Android, users are guided along an exercise circuit that can be modified for any fitness level.
This new fitness amenity will provide residents of The Resort safe and equitable path to be more active, and makes a great addition to healthier lifestyle options that includes Club on 6th's modern fitness center – take a virtual tour here!
Get more details on the Fitness Court® >
Meet the Builder: Tri Pointe Homes
Introducing Tri Pointe Homes, nationally renowned homebuilder of the single-family residences at Tempo. With an acute understanding of their buyers, a repertoire of pioneering smart home programs and passionate company culture, the team at Tri Pointe recognizes the importance of the builder­–customer relationship and aims to provide a premium lifestyle at any price point.
Since its inception, Tri Pointe Homes has been garnering praise from homebuyers and industry professionals alike for its people-first, design-driven approach to homebuilding. Tom Grable, division president, Southern California, explains, "When we think about who we're designing homes for and selling homes to, it all comes back to the customer. Our goal is to deliver the customer preferences of today and to evolve as they change as well."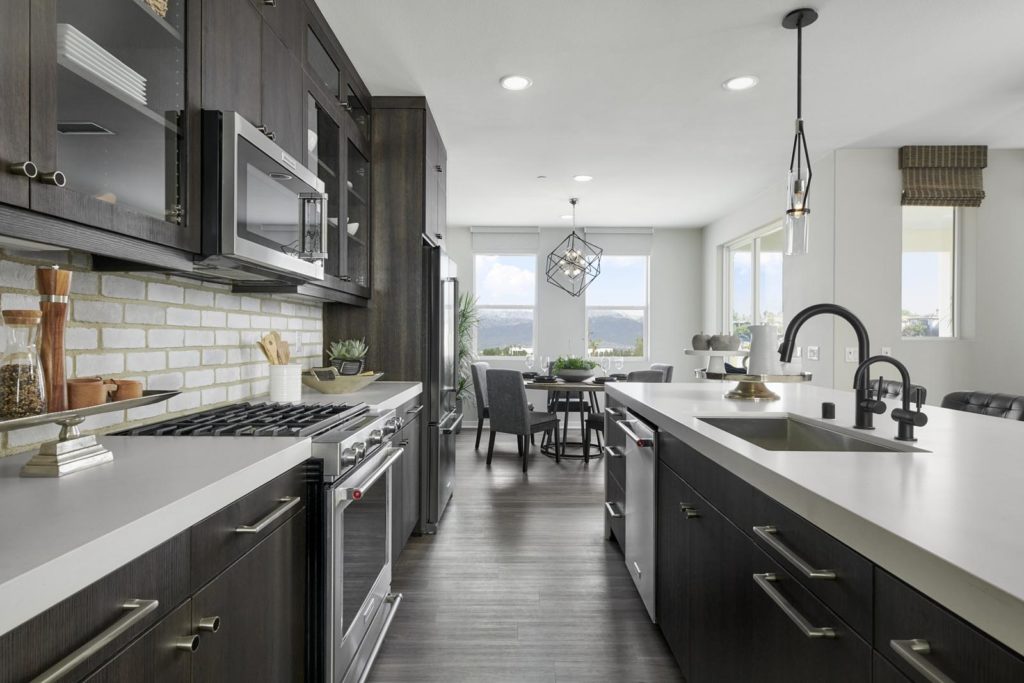 Tempo is where this creed comes to life. Catering to those in pursuit of a vibrant lifestyle with home designs that capture Rancho Cucamonga's definitive urban landscape, Tempo at The Resort offers homebuyers single-family comforts, with the privacy that detached designs afford, in a burgeoning cityscape at a desirable price point. The path to a Tri Pointe home starts with a comprehensive yet simple online guide where you can review a variety of online resources, schedule in-person or virtual appointments and get pre-qualified through Tri Pointe's affiliated mortgage company, Tri Pointe Connect.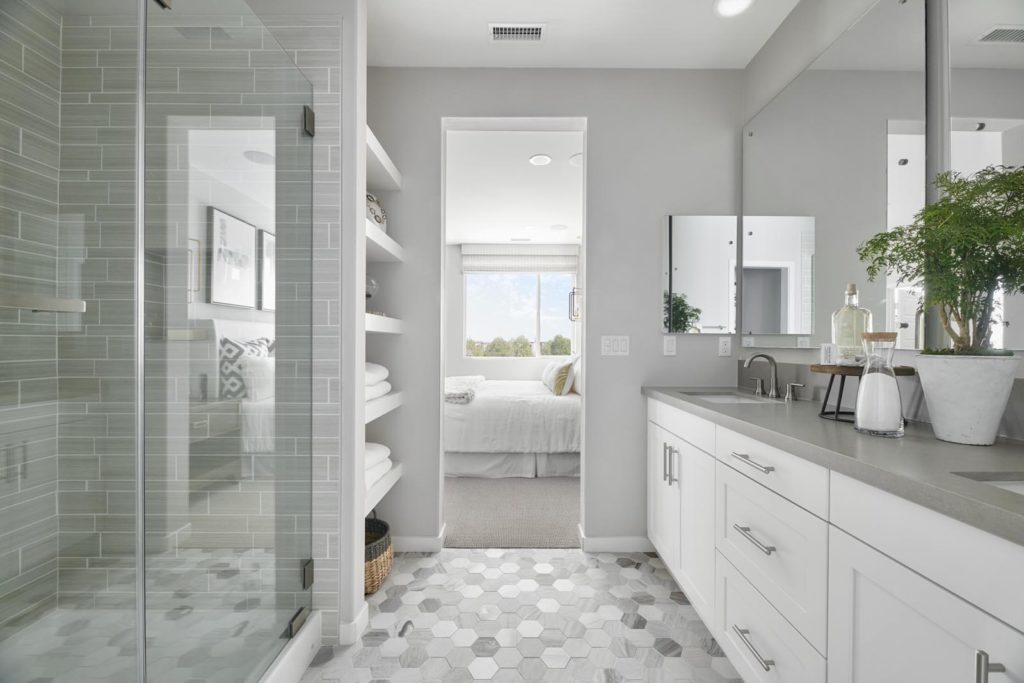 In addition, Tri Pointe Homes has had marked success with its innovative programs that cater to the needs of and improve the quality of life for today's buyers. One such program is LivingSmart®, a visionary green building platform that encompasses five areas of advancement: HealthSmart®, EnergySmart®, EarthSmart®, WaterSmart® and HomeSmart®. Together, they incorporate features, technologies and appliances that reduce energy demands—increasing savings—contribute to healthier indoor air quality, preserve natural resources by utilizing recycled materials, conserve water and keep you comfortable and connected in every nook of your home.
While Tri Pointe is one of the largest homebuilders in the nation, it operates under a guiding principle of the "best of big and small."
Tom describes, "It's the understanding that at a division level, we're the experts of our marketplaces…The company relies on our expertise here at the local level to identify who our customers are and create product in locations that are going to appeal to them."
Using a tailored approach based on locale and customer needs, the team promotes a passionate culture, leveraging the strengths of each member and cultivating a group of devoted individuals who view homebuilding as their true calling. Tom continues, "When our team members perform at the highest levels, who does that benefit? Our customer. That's part of our culture."
With that in mind, Tri Pointe customers also enjoy the opportunity to personalize their homes. At a brand new Design Studio located in Anaheim, a dedicated team of consultants offers professional services and an impressive array of design-forward styles for cabinets, countertops, tile, plumbing and flooring selections. So, in the end, each home feels unique and personal.
You can rest assured knowing your home at Tempo was designed with you in mind by a team of experts who are committed to an enjoyable home-buying and -owning journey for their clientele. Because at Tri Pointe Homes, a new home is "life-changing by design."
At The Resort, you're never far from the excitement of Rancho Cucamonga. Check out our new home neighborhoods and be sure to Like us on Facebook and follow us on Instagram to stay in the know.