Meet The New Home Company, builder of Nova—a collection of contemporary townhomes and single-stacked flats. In its essence, The New Home Company strives to create a better experience for homebuyers by building better homes and, in turn, better lives. With residences and master-planned communities built in meticulously selected locales across Northern and Southern California and Arizona, it's no wonder this builder holds itself to a higher standard.
First and foremost, The New Home Company puts people first. This boutique homebuilder caters experiences to prospective homebuyers and homeowners by providing online resources, tours, concierge services and exemplary customer care. Regarded as a top-two homebuilder in customer satisfaction for eight years running by the Eliant survey company, The New Home Company assists customers throughout every step of the homeownership journey, delivering a safe and curated experience from start to finish. And it's at Nova where this commitment to outstanding customer care is best demonstrated: The builder has arranged home buying 101 seminars that cover the gamut from FICO scores to loans and much more for first-time homebuyers.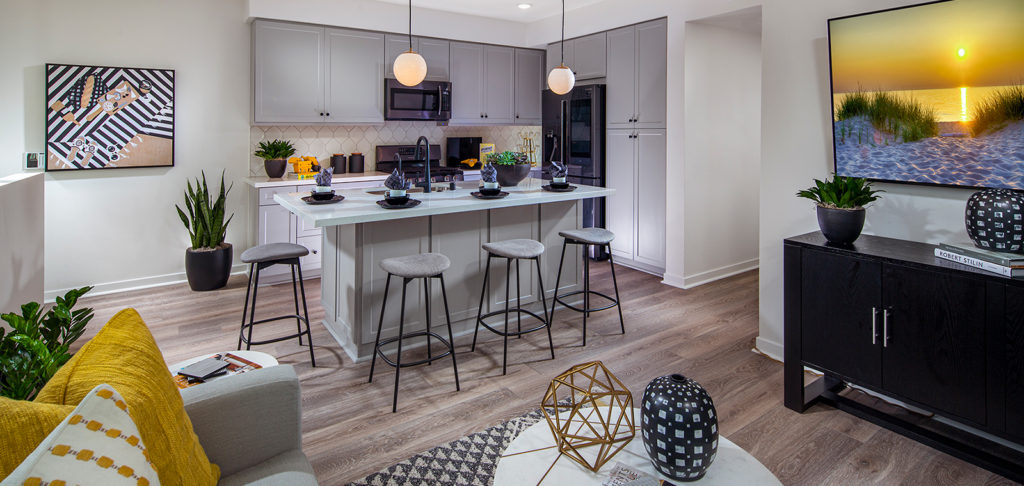 The New Home Company builds with heart, and the work the team does is clearly reflected in the homes they sell to their customers. That's why each home is crafted to meet the demands of today's world and the ever-changing needs of today's families—with expert craftsmanship and modern design at the forefront. With that in mind, the builder offers EVO Home Technology, a revolutionary smart home program that emphasizes modern digital design, featuring advanced home integration systems that centralize nearly all aspects of your home—from utilities to security to entertainment—and increase connectivity through whole-home Wi-Fi. This advanced program is offered at Nova and all new homes at no additional cost and includes a White Glove Orientation in which their tech experts help with the setup of all your smart home devices.
It's not just fostering customer relationships and crafting exceptional homes that The New Home Company is dedicated to. The people-first ethos extends to its employees, trade partners and the communities in which the company builds as well. The New Home Company staunchly believes in giving back to its communities at large, and that's why it partners with HomeAid charities as well as Interval House, a non-profit organization that provides services and specialized housing to victims of domestic violence in Los Angeles County and Orange County. Each year, The New Home Company hosts a charity golf tournament to raise funds for Interval House, an organization which the founder holds near and dear. And this past year, through the support of its trade partners, consultants and legal counsel, the company raised $250,000 for the non-profit.
With over a decade of excellence and industry-leading design and construction resulting in countless awards and distinctions, this homebuilder excels at the art of customer care and homebuilding. And at Nova and every home built by The New Home Company, you're primed to live a better life in a home with all the modern conveniences and comforts that bring you and your family together.
At The Resort, you're never far from the excitement of Rancho Cucamonga. Check out our new home neighborhoods and be sure to Like us on Facebook and follow us on Instagram to stay in the know.